New York Organization Shines Light on Homelessness and COVID-19
People experiencing homelessness often face significant health challenges that can increase the risk of infection, hospitalization, and death from COVID-19.
Partnering for Vaccine Equity partner organization Lantern Community Services (Lantern) in New York City provides housing and health and wellness services for people impacted by or threatened with homelessness. Lantern provides shelter for 2,275 residents including adults and families:
•    With histories of chronic homelessness
•    Facing mental health issues and chronic health problems
•    High prevalence of substance use
•    Aging out of the foster care system
Many of these residents face risk factors much higher than the general population. For example: smoking rates among the homeless are two to four times higher than the general population, and the congregate setting of homeless shelters increases the risk for COVID-19.
COVID-19 Vaccination Campaign
In June 2021, Lantern began a peer-driven outreach effort called On Point, a CDC-funded program intended to increase COVID-19 vaccine confidence and vaccination. When On Point started, the COVID-19 vaccination rate was 12% among tenants and 28% among staff. With thousands of people living and working in Lantern's 16 supportive housing buildings and three shelters, getting people vaccinated was a high priority. Carol Lemus is Assistant Vice President for Health with Lantern, and she knew On Point's mission would be challenging. 
"While we're funded and mandated to offer services, our tenants are not mandated to receive them. It's their choice if they want to participate or not in our programming. Along came Covid and not participating started to mean something different because now if I'm not vaccinated, I'm a risk to the people who live around me," Lemus said.
Why were vaccination rates so low at the beginning? Initially, many residents and staff faced barriers to accessing the vaccines, including:
•    Lack of appointments
•    Lack of transportation
•    Difficult system for booking an appointment
•    High dependence on technology literacy
•    Long waits at vaccination sites
Vaccine Ambassadors
The On Point program began with the recruitment of peer influencers (vaccine ambassadors) and staff supporters (vaccine champions) to help residents and staff understand the value of vaccination and help overcome barriers to accessing vaccination. Initial training of vaccine ambassadors included information about COVID-19, the role of vaccines, myths and misinformation, and motivational interviewing skills. They also went over outreach techniques and some epidemiology. To help the vaccine ambassadors understand the trends and who is being affected the most, Lemus ran focus groups with the tenants to hear their concerns, hesitancies, and questions so the training incorporated responses to the specific needs of the community. 
Getting a supportive staff to help train vaccine ambassadors was initially challenging. Lemus explains, "when we started On Point roughly one-third of our staff had been vaccinated." In the summer of 2021, New York City mandated that any agencies that were financed with city funds had to have their staffs vaccinated, or the unvaccinated had to be tested weekly and present proof they were negative. 
"We experienced staff attrition because there were members of the organization's staff that didn't want to either get the vaccine or their noses swabbed. You had to get vaccinated or move on. We didn't have a choice," Lemus said. Lantern was able to fill gaps in staff shortages by restructuring the health department at Lantern to utilize peer delivered services. 

Lemus believes the vaccine ambassador peer model works because it begins with understanding. "A lot of this is really rooted in health equity. We have a healthcare delivery system that is far from representative of our population – and certainly often very unfamiliar with the realities of day-to-day life as someone who may be homeless or have a chemical dependency – and then you add to that the stigmatization these marginalized people feel."
Lemus  explained they were careful in determining potential vaccine ambassadors' relationships with people and their roles in the building. There were certain criteria that had to be met for being a vaccine ambassador. They had to be  vaccinated and they had to be willing to share their perspective with people who were skeptical of the vaccine or the health system.  
Lemus said, "We didn't want people with a ton of incident reports because that generally means they aren't getting along well with their neighbors. You also don't want someone who is dealing on the side and maybe the tenant owes them money because the tenant will then avoid the vaccine ambassador." "You couldn't be a grumpy, miserable person because no one wants to deal with that. We trained everyone who was interested."
Outreach to Neighbors
Vaccine ambassadors may know the health conditions or struggles of their neighbors and can tailor conversations in a way that is more understandable and relatable. Vaccine ambassadors reached out to neighbors in Lantern's resident facilities by knocking on doors, setting up information tables, having informal conversations, and hosting discussion groups. Lemus offers an example of how a vaccine ambassador could address a neighbor's specific situation and concerns: "I knock on her door and say I know you have diabetes, and you may be concerned that the vaccine may make it worse. I want to tell you that because you have diabetes, it's even more important that you get vaccinated. I care about you as a neighbor, and I'll be happy to help you connect to those services." 
Vaccination Clinics
Lantern supports the efforts of vaccine ambassadors by working with partners to organize on-site vaccination clinics. Lantern hosts these clinics and offers COVID-19 and flu vaccinations in every building monthly to increase access and convenience. 
"Among populations who are using drugs, and populations that have been homeless, they don't tend to go out of their neighborhood – so they have difficulty in the system – they're not treated well – which is demotivating," Lemus said. 
Bringing the vaccines to people where they are is very important.  Lemus provides a scenario a Lantern resident  using drugs may face when seeking a vaccination.  "A drug user may wait in a line for vaccination but go into withdrawal while waiting in line. They have a choice to make between getting out of withdrawal or getting a vaccine. They are going to get out of withdrawal."
Lemus emphasizes that getting people trained as peer messengers was key. "Once they were trained, they just took off, and coordinating the vaccine clinics in support of that really got the program going" she said.  People were much more open to discussing and considering vaccination when the message was coming from someone they trusted and when the service was available right where they live." All vaccines administered at Lantern have been in common areas of buildings or out of a mobile unit parked in front of buildings.  Vaccine Ambassadors and available site staff help get tenants who have expressed interest in vaccination and accompany them to the common area or mobile unit.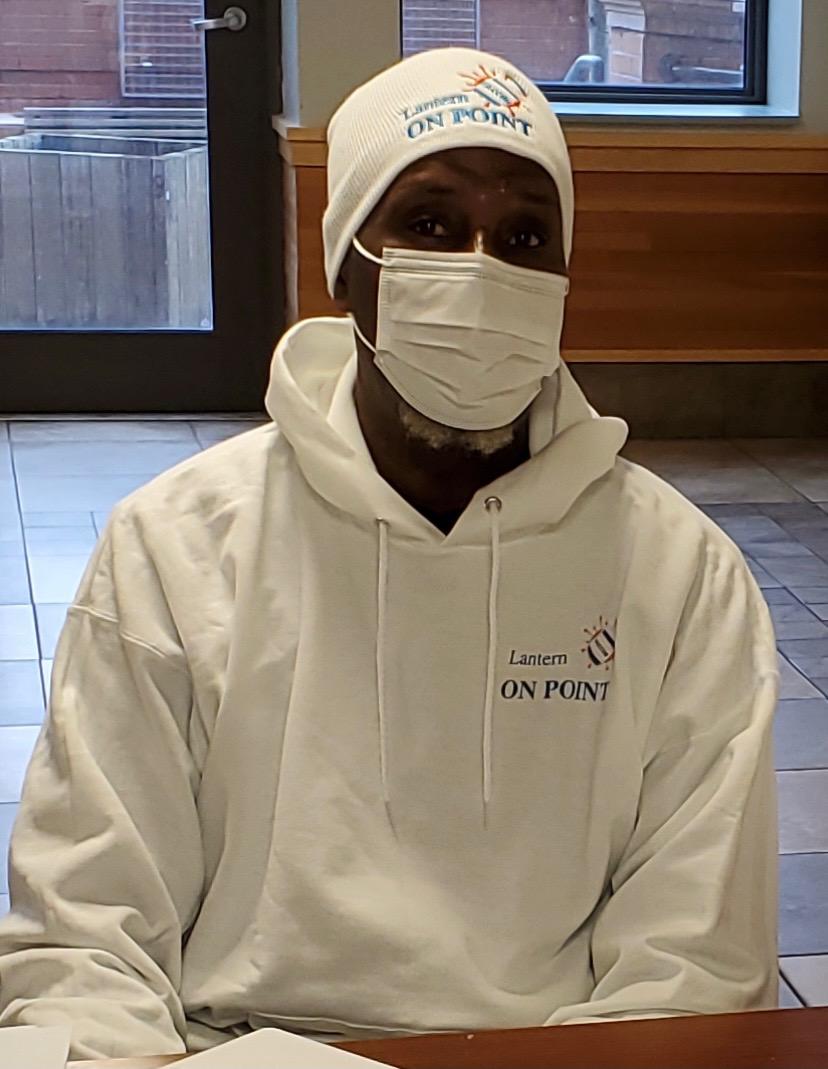 Impact
The On Point program's success is impressive.                                                  
•    98% vaccinated for COVID-19 among staff
•    60% vaccinated for COVID-19 among tenants
•    32 Vaccine Ambassadors trained and active
•    3,488 contacts* made through September 2022
•    576 events, including monthly vaccination events in each building
•    403 culturally and linguistically educational materials designed
*Contacts are actual encounters, not individuals. Some people had one or two contacts before requesting a vaccine, and others had numerous contacts and still are not ready to be vaccinated
What's Ahead
Lemus believes the success Lantern has shown in improving COVID-19 vaccine uptake is a good model to follow in addressing other health conditions.  "Our relationship has been very successful with the CDC Foundation, and we've gotten another peer driven model funded through them to address HIV." 
Lantern's focus may also be expanded to include adult vaccination in general. "We've identified the need to normalize COVID-19 vaccinations the way we do flu, pneumonia, and shingles vaccines – all of it within the context of monitoring and maintaining your health," Lemus said. 
Helping people experiencing homelessness and problematic substance use is important and fulfilling work for Lemus. "We're meeting people where they are and that's the definition for me of harm reduction." she added. "You meet people without judgement where they are and support them in becoming who they want to be – many of these people live a tough reality, they are survivors."