Superheroes In the Fight Against COVID-19
The COVID-19 pandemic has shown us just how heroic our health care workers are, but the El Sol Neighborhood Educational Center took this notion a step further.
Recognizing the complexities around gaining people's trust in the vaccines and in communicating the importance of getting vaccinated, the El Sol Neighborhood Educational Center — which serves the largely Spanish-speaking communities of San Bernardino County in Southern California — has taken a unique route to promoting COVID-19 vaccination in the local community.   
With support from the CDC Foundation, the El Sol community health workers—promotores in Spanish—have created a vaccine education campaign centered around an animated public health superhero known as "Captain Empath," or "Capitán Compasión".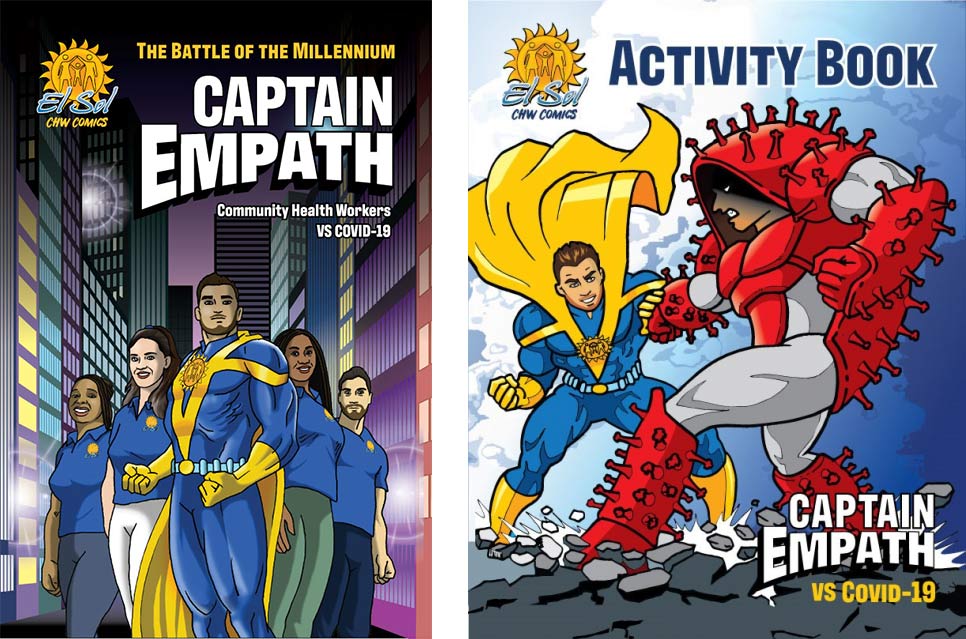 "Being part of this effort has been an experience I will never forget," said Chavez.
The campaign—which includes activity books, a comic strip, and a local theater production—follows the adventures of Captain Empath as he takes on COVID-19 while also stressing the importance of getting vaccinated.  Promotor Natanael Chavez plays the role of Captain Empath, and all the supporting characters are based on real-life El Sol promotores.

Read more about El Sol's vaccination campaign
Federal funding for this project is supported through cooperative agreement 1 NH23IP922652-01-00 from the Centers for Disease Control and Prevention (CDC) of the U.S. Department of Health and Human Services (HHS) totaling $25,660,048 with 100 percent funding from CDC/HHS. The contents are those of the author(s) and do not necessarily represent the official views of, nor an endorsement, by CDC/HHS, or the U.S. Government