Young Nepali Volunteers Bring New Ideas to the Fight Against COVID-19
Volunteers and staff at the Nepal Seattle Society have been working to educate Nepalese communities in the Pacific Northwest about how to prevent the spread of COVID-19.
As part of these efforts, the organization has been engaging young people from the community in their outreach. With support from the CDC Foundation, they created a youth liaison program in which young community members help older members use technology to navigate health-related tasks like making vaccine appointments and downloading their vaccination cards.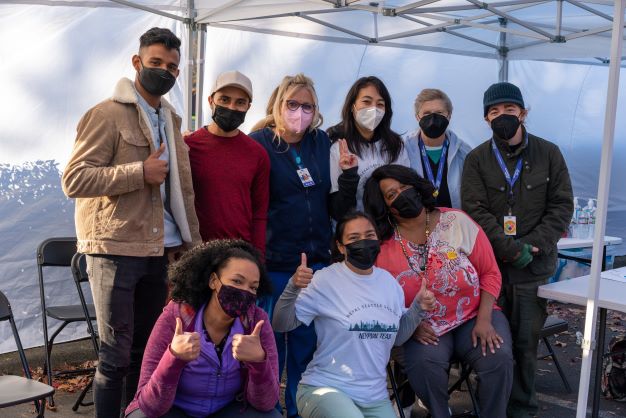 They also hosted a youth outreach event during the annual Dashain Cup—a soccer tournament between 12 local Nepali/Bhutanese community soccer teams. Dashain, one of the biggest festivals in Nepal, is often celebrated by flying kites that are believed to bring good fortune, health and happiness to revelers. During the soccer tournament, Nepal Seattle Society members honored this Dashain tradition by flying vaccine-themed kites above the field, decorated with encouraging messages about overcoming COVID-19.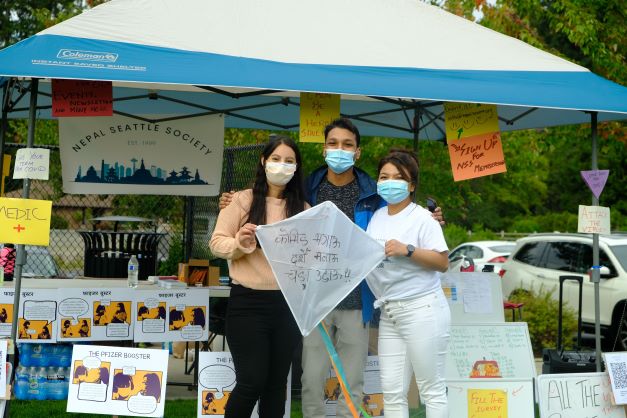 To reach an even wider audience, this creative and enthusiastic group decided to produce a podcast aimed at community members who were hesitant about COVID-19 vaccination. The show, recorded and streamed in Nepalese, features prominent members of the Nepali community, and serves as an important opportunity to combat misinformation about vaccines from a more personal perspective.
"We're realizing people respond best to first-hand perspectives. Even my immediate family members, who were skeptical of the vaccines in the beginning, were able to come to a decision after hearing first-hand perspectives," Program Manager Leema Pradhan said. "Basically, people need to trust someone, in order to come to a decision."
The podcast premiered in November 2021 and continues to grow in popularity as it engages and informs this vibrant community.
Read more about the Nepal Seattle Society podcast on the CDC Foundation site.
Listen to a full episode of the podcast on Spotify.
Funding for this effort is made possible through a subaward from the CDC Foundation and is part of the Centers for Disease Control and Prevention (CDC) of the U.S. Department of Health and Human Services (HHS) financial assistance award totaling $25,660,048 with 100 percent funding from CDC/HHS. The contents are those of the author(s) and do not necessarily represent the official views of, nor an endorsement by, CDC/HHS or the U.S. Government.