Trusted Voices to Promote Vaccination: Partnership for a Healthy Lincoln
Partnership for a Healthy Lincoln (PHL), in Lincoln, Nebraska, knew that in order to promote vaccination to COVID-19 to racial and ethnic minority communities and help them overcome vaccine hesitancy, the message needed to come from well-known, respected, and trusted members of their communities.
Through supplemental grant funds from CDC's Racial and Ethnic Approaches to Community Health (REACH) program, PHL supported outreach efforts by funding community health workers and vaccine coordinators within specific cultural partner organizations to provide evidence-based education, dispel misinformation, and offer vaccine clinics. PHL also launched a compelling messaging campaign in April 2021 that promotes vaccination in those communities by collaborating with Black/African American, Hispanic/Latino, and Asian cultural and community centers, faith leaders, and community advocates. The messaging campaign continues and includes digital ads, social media, bus and billboard campaigns, radio, and TV.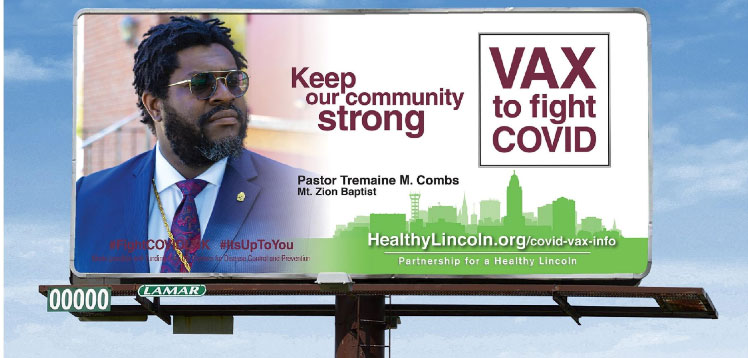 In partnership with members of Lincoln's Black clergy, PHL supported vaccination clinics and promoted public awareness through multiple mediums. Billboards featuring Black clergy in diverse neighborhoods brought positive attention within faith communities. Messaging featuring a Black pastor and prominent Black community members on the sides of Lincoln's city buses resulted in television news coverage on Nebraska's largest CBS affiliate, KOLN/KGIN. 
Vaccine clinics in local Hispanic churches hosted by PHL's partner, El Centro de las Americas, reached additional members of the Spanish-speaking community. Billboards and bus sides featured trusted Hispanic doctors, teachers, and community advocates promoting vaccination in Spanish.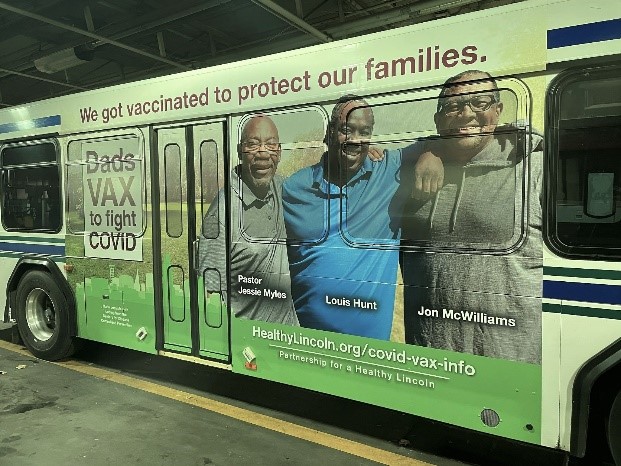 PHL has produced internet video and banner ads featuring Black and Hispanic health care professionals and community advocates, such as Sanford Bradley, Sr., an outreach specialist and nonprofit director, and Dr. Horacio Alvarez Ramirez. These videos resulted in a substantial increase of new visits to PHL's English and Spanish vaccine information pages on the PHL website, HealthyLincoln.org. 
To view PHL's public service announcements and read more about their work in Lincoln, Nebraska, visit the Partnering for Vaccine Equity "Stories from the Field" page.
Federal funding for this project is supported through cooperative agreement 1 NH23IP922652-01-00 from the Centers for Disease Control and Prevention (CDC) of the U.S. Department of Health and Human Services (HHS) totaling $25,660,048 with 100 percent funding from CDC/HHS. The contents are those of the author(s) and do not necessarily represent the official views of, nor an endorsement, by CDC/HHS, or the U.S. Government