Through Conversation, Community Finds Comfort and Clarity
Constantina Mizis, founder, president and CEO of the Latino Alzheimer's and Memory Disorders Alliance (LAMDA), lost her father to COVID-19 in November 2020. "He only needed four more months, four more months to live, and he would have received a vaccine," Mizis said. "He did not have the opportunity to choose life."
Mizis often shares this personal and painful story when speaking with older Latino community members in Chicago about the importance of vaccination. With support from the CDC Foundation, LAMDA has been working to increase COVID-19 vaccine education and acceptance among caregivers and family members in the Latino community who are caring for loved ones with Alzheimer's or other memory disorders.
Through their outreach, Mizis and the LAMDA staff regularly organize small group sharing sessions called charlas, which is Spanish for chats. The charlas usually bring together 7-10 people to talk in a friendly, informal setting. During the charlas, Mizis encourages participants to talk about their concerns about COVID-19 and the vaccines, then she gently counters the misinformation that often fuels those concerns.
"We see that our community has a lot of fear around institutions or sharing personal health information due to their or a family member's immigration status," Mizis said. "But with charlas, we break through that fear." These chats also give facilitators the chance to direct people to places to get vaccinated. To date, LAMDA has been responsible for over 300 older Latinos getting vaccinated against COVID-19. "I see my father in each one of them," Mizis said. "By getting a COVID-19 vaccine, they have chosen life." To learn more about how LAMDA uses the power of conversation to overcome vaccine hesitancy, read this blog written by Laura Durda, MSGH, a program officer for the CDC Foundation.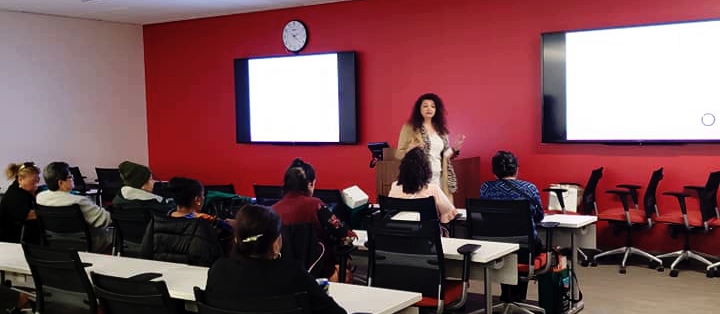 This project is supported by the Centers for Disease Control and Prevention of the U.S. Department of Health and Human Services (HHS) as part of a financial assistance award totaling $22,724,994 with 100 percent funded by CDC/HHS. The contents are those of the author(s) and do not necessarily represent the official views of, nor an endorsement, by CDC/HHS or the U.S. Government.