Leading with Trust: Latino Health Access
Over 1 million people have died from COVID-19 in the United States (U.S) with higher rates among racial and ethnic minority groups. There are over 60 million Hispanic people in the U.S. accounting for nearly 20% of the country's population.
Communities RISE (Reach, Immunizations, System Change for Equity) Together is an alliance of partners connected to over 2,400 organizations across the nation working to address barriers to COVID-19 vaccination. Latino Health Access (LHA) is one of those partners. LHA continues to work with the medical community in south metro Los Angeles, CA to bring COVID-19 testing, education, and COVID-19 vaccines to some of the hardest hit communities in Santa Ana, Anaheim, and San Juan Capistrano. 
The vaccination gap within Hispanic communities is compounded by a variety of challenges (or barriers) including language barriers, no internet access, difficulty getting access to vaccines, transportation issues, and mistrust in the health care system. LHA found ways to address these hurdles. They offered clinics on weekends and holidays. They partnered with local clinics to bring COVID-19 vaccines to communities. They also worked to provide a van to shuttle older adults to and from clinics. There were also times when someone driving to work would drop off a family member to receive a vaccine. LHA would pay a ride sharing service to take that person home. 
Maria Cervantes, LHA's Director of Partnerships and Strategic Communications, was especially pleased with one particular effort to get people vaccinated. "We created a vaccination float that we took to these very needy communities. We let people know we were coming with a megaphone and played music. We brought  information in their respective language and an environment of happiness. We brought the clinics to them- it helped make people more comfortable."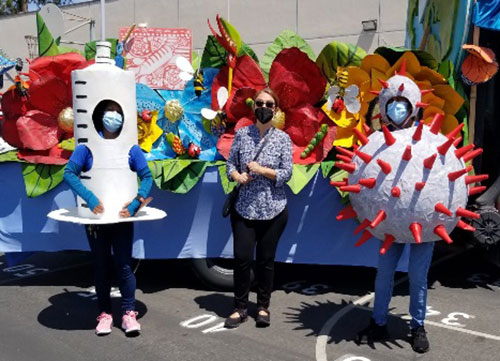 Many LHA services are created from a need in a community. This is where promotores come into play. Promotores are Hispanic community members who receive specialized training to provide basic health education in the community in common places like churches, grocery stores, and schools. Promotores have an expansive reach by engaging community members outside of the typical health system to address concerns about getting the COVID-19 vaccine.
LHA Chronic Illness Program Coordinator Guillermo Alvarez says listening to promotores is important. "When our promotores say there is a service that is needed in the community, that's when LHA does its best to find a way to solve that need or gets grants to help solve it. We did so much for community members other than just setting up appointments. We set up a call center, we set up a contact tracing center. Because our community members had technological issues, we had our promotores go to them and let them know if they tested positive and then they made sure they had everything they needed to isolate properly."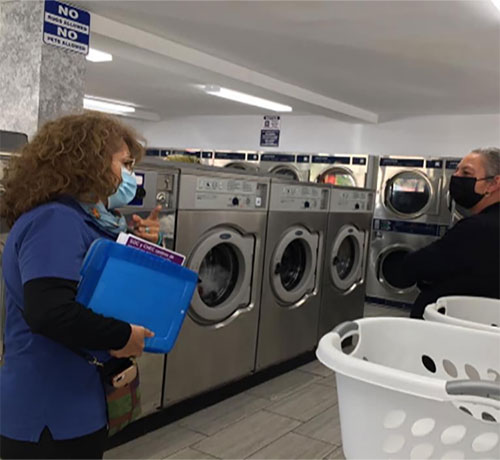 When Alvarez was asked for his organization's biggest success during the pandemic, he shared, "It is training our promotores to use technology. That was a barrier at first for our participants and internally as well. Some of our promotores didn't have a lot of formal education. Some didn't know how to read or write; some didn't know how to use computers so being trained to use Google voice and Zoom was important. We have a database system where promotores enter all of their own data so that is a success story."
Alvarez says there were lessons learned as well. "Hopefully this (a pandemic) doesn't happen again, but if it does, we understand a lot more about how to get the word out. Also, involve the community before developing any plan or solution. They will be able to provide 95-98% of the answers you need and when you involve them you build trust."
Read more about the work of LHA to serve the community of south metro Los Angeles, CA on the Partnering for Vaccine Equity "Stories from the Field" page.
Federal funding for this project is supported through cooperative agreement 1 NH23IP922652-01-00 from the Centers for Disease Control and Prevention (CDC) of the U.S. Department of Health and Human Services (HHS) totaling $25,660,048 with 100 percent funding from CDC/HHS. The contents are those of the author(s) and do not necessarily represent the official views of, nor an endorsement, by CDC/HHS, or the U.S. Government.