How Arkansas Helped Protect Pacific Island Communities from COVID-19
While Arkansas may not immediately be associated with tropical Pacific Islands, it is home to more than 10,000 people from the Republic of the Marshall Islands (RMI) who moved to Arkansas to find jobs and settle down.
Over the last 40 years, thousands of Marshallese people moved to northwest Arkansas, building a thriving community in Springdale. Early in the COVID-19 pandemic, they experienced high rates of infections, hospitalizations, and deaths. To respond, CDC, through the Partnering for Vaccine Equity program, helped the Arkansas Coalition of Marshallese (ACOM) move quickly to protect the health of this disproportionately impacted population. 
From the Central Pacific Ocean to Northern Arkansas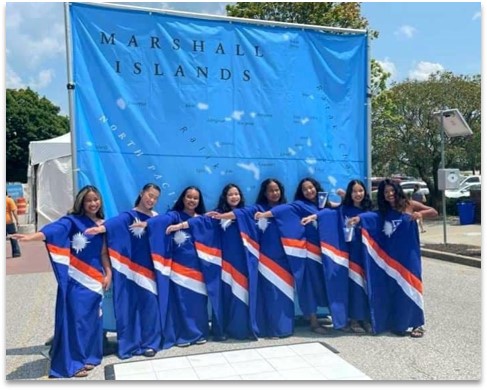 How do you get from a series of islands and atolls in the middle of the Pacific Ocean to northwest Arkansas?  It started with a man named John Moody, who arrived in Springdale in the 1980's to work in a Tyson poultry plant.
He informed people back in the islands about the plentiful jobs that were available. Word spread and migration began. Melisa Laelan is ACOM's CEO, and she said the Marshallese people left their homes to build better lives for themselves and their families. 
A law known as the Compact of Free Association provides U.S. support to RMI, and gives RMI citizens opportunities to live and work throughout the U.S. Laelan explained that RMI faces a number of environmental challenges that limit economic opportunities for Marshallese who live on the islands, so "many Marshallese citizens joined the United States military and moved to the U.S.."
COVID-19 Burden
Many Marshallese work at Tyson and other poultry plants in Arkansas, and as essential workers in a congregate setting, they were at increased risk from COVID-19. Adding to the community's risk, many Marshallese workers carpool together and live in multigenerational homes with parents and grandparents. These conditions made quarantine and isolation difficult. 
The second death in northwest Arkansas was a Marshallese person. Laelan said she "knew then that COVID was going to take a lot of people." She added "It was a scary period because every day there was someone in our community that died from COVID." 
The Marshallese community has specific health concerns that put them at higher risk of severe COVID-19 outcomes. Diabetes is prevalent, and they also have disproportionately high rates of heart disease, cancer, and obesity. In June 2020, the Marshallese community accounted for nearly 40 percent of the deaths in a two-county area of northwest Arkansas despite representing less than three percent of the population. About 15,000 to 20,000 Marshallese live in the region. 
Making Vaccines Accessible
Many of the Marshallese people living in Arkansas didn't have access to Medicaid early in the pandemic.  Laelan worked to address this challenge, and with help from legislators Medicaid became available in late February 2021.
When vaccines became widely available to the public in early 2021, Laelan realized getting people vaccinated was going to take tremendous work. "We needed to connect all the dots - where were we going to go, who was going to provide the vaccine, who was going to be our nurse accompanying us every time we go out, but we knew because of all the death we had experienced families were ready to receive the vaccine." She adds, "we started going to churches we had relationships with because bringing the vaccine to them was much more convenient for them." 
Her organization did home visits as well. "That was one of the best things we did was to bring the vaccine to their doors. You just don't know what social determinants are blocking people from getting the vaccine. It could be transportation - many of our families are multi-generational households with one car and sometimes they want to get the vaccine but have no way to get there," Laelan said.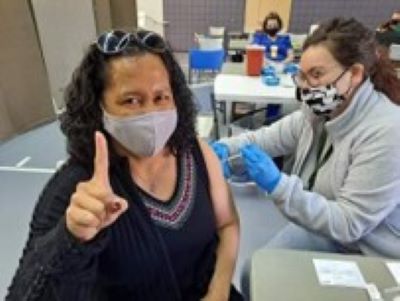 To help overcome transportation and other access barriers, Laelan said ACOM made the process as simple as possible for members of the Marshallese community.  "If you need to get vaccinated you can call us, and we will connect you with the Arkansas Department of Health or the local health department so they can come to you." As of November 2022, at least 10,000 Marshallese have been vaccinated. 
One Size Doesn't Fit All
ACOM used several successful strategies to get people vaccinated. Early challenges included limited health information in Marshallese, so they hosted education sessions with nurses who speak the language. Videos, brochures, and flyers helped connect people to information in Marshallese as well. Laelan emphasized the importance of creating programs that fit the needs of the community. "Our people need food and Tyson donates cases of chicken to us every week. Businesses around us help us as well.  We get donations, and the Arkansas Department of Health has been a big help. They provide vaccines for free, and we hire the nurses."
Making Vaccination Visible
Laelan highlights the importance of discovering new approaches to motivate more people to get vaccinated. In the summer of 2022, ACOM held a movie night. "We set up a projector in the middle of an apartment complex, we had a barbeque and popcorn. It was nice seeing all the kids come out and then we put a little incentive in there – a $20 gift card." Laelan said the use of incentives was an important part of making vaccinations more convenient and accessible. "This past Christmas, we held a Vaccine with Santa event and people donated toys. If kids got a vaccine, they got a toy, and if the moms got one, they got a gift card." Laelan said they had enough money to give them $75 per vaccine. "There was one mother who had several kids and so they received a lot of money. We heard from some of these families who said they didn't have much money - and didn't know what they were going to do about food - but now they have the gift cards." These incentives were funded through a $10,000 donation from Every Mother Counts. 
Boosters and Trusted Advisers  
Getting the Marshallese people vaccinated with the primary series was successful, but Laelan stressed convincing them to get booster shots is a real challenge.  "It's almost like they're saying I've received my two vaccines, I'm good to go, that's enough, that's going to protect me," Laelan said.
Community Ambassadors and TikTokers were mobilized to encourage people to get vaccinated to protect their families. There are different ages of community ambassadors depending on the event. "If we are trying to get students vaccinated then we try to find someone who is young, also a student, and famous and in their TikTok [community]. We [also] have quite a few community ambassadors," Lealan said. 
One of ACOM's biggest events is called Stroll the Atolls, an annual gathering focused on educating the people of northwest Arkansas about the Marshallese community. Laelan explained, "6,000 people came to this event last summer - we had a Pacific Islander celebrity - and we were able to vaccinate 500 people. Utilizing community ambassadors is very important especially if you are going to a church. If you are going to talk to church goers, you must use the pastors." 
Looking Ahead
The next challenge for ACOM will be building on relationships made during the pandemic. "It takes a lot of understanding from providers to know the needs of this particular community in order to fully serve them," Laelan said. Much has been achieved. ACOM has a clinic in Springdale open twice a week that provides vaccines to children and anyone who needs them. Laelan points out "certified navigators are on staff to help enroll people into Medicaid and the Affordable Care Act."