Playful Characters Teach Kids and Parents
Asian Services in Action (ASIA), a comprehensive health and social service organization in Northeast Ohio, was searching for more effective ways to communicate vital information about COVID-19 vaccines to newly arrived immigrants and refugees from the Asian American and Pacific Islander (AAPI) communities they serve.
Many in these communities come from countries where violence and displacement have prevented them from receiving a formal education. They often cannot read and speak only limited English. For them, the messaging about vaccines can be confusing.
"Because of historical ethnic cleansing and things like that, many of the communities that we serve, they're illiterate in any language," said Elaine Tso, ASIA CEO. "That's why it's really important to message in a visual sense with a lot of infographic information."
The organization took an innovative and whimsical approach to this very serious problem. With support from the CDC Foundation, ASIA created the "Courageous Covid Vaccine Champions"—a cast of cartoon characters designed to help newly arrived families understand essential health and safety information about COVID-19 vaccines through colorful and engaging artwork. 
Tso hired a graphic artist from the local AAPI community to design the characters. The Champions include such characters as a masked turtle, a socially distanced cat, and several smiling baby carrots. They are depicted as human-like animals and vegetables rather than people of any particular ethnicity. "The goal is to be inclusive, diverse—so that everybody feels seen and heard," said Tso.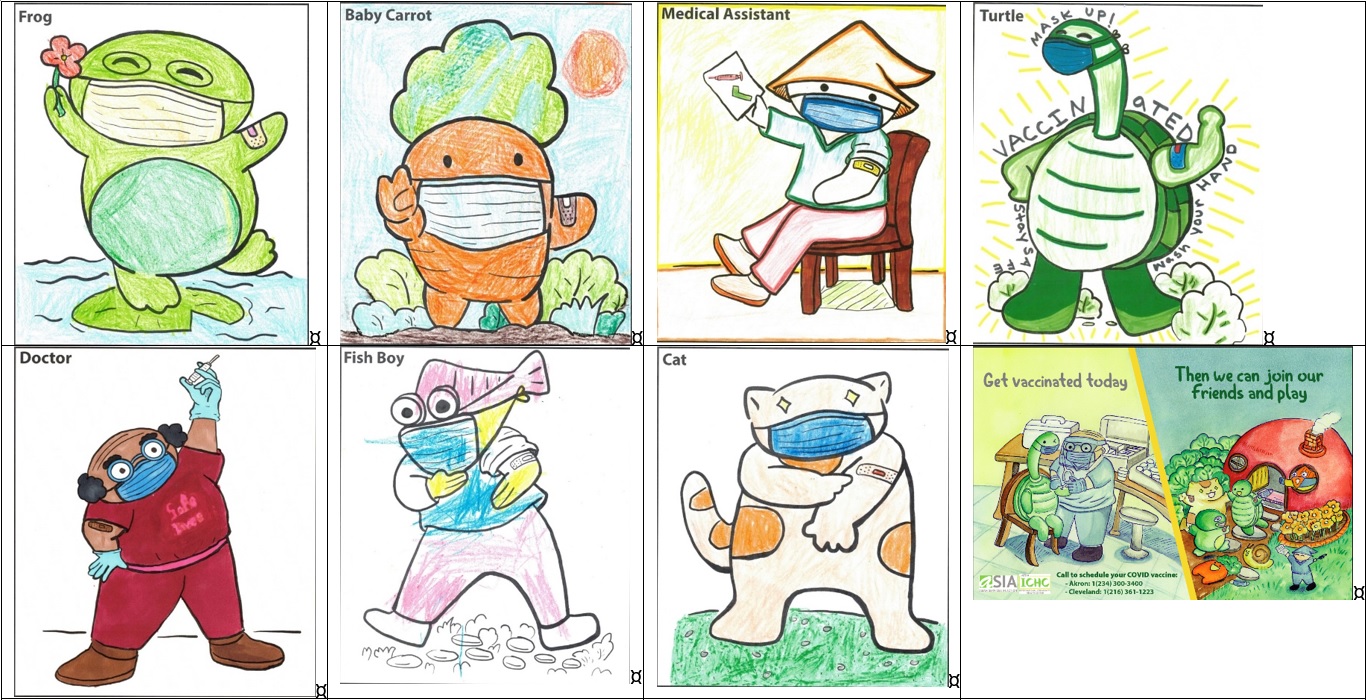 Because children in refugee and immigrant families often serve as informal interpreters for their parents, the ASIA team decided to introduce their Courageous Covid Vaccine Champions through a coloring contest for local kids at the end of September 2021. 
"If we can engage the children, the children can engage their parents and then the parents can get the information," Tso said. "We made the coloring pages available in places where community members would gather—the public library, grocery stores, community events."
To accompany the contest outreach, ASIA created a board game called "Vaccine Victory" in which players follow the Champions on their vaccine journey. As families play the board game, they learn COVID-19 health guidance and ASIA's bilingual outreach workers answer any questions or concerns they may have about vaccination. 
At the end of the game, the characters are depicted proudly celebrating their vaccinations.
Tso believes that the playful characters help to ease anxiety about COVID-19 vaccines and allow newly arrived families to get the information they need to make an informed decision about vaccination. 
"People who came to the United States under duress as refugees or fleeing some sort of political infighting in their country of origin—they have very little trust of the government," Tso said. "We want to create the environment where individuals feel like they're choosing to be vaccinated as opposed to being forced to be vaccinated…making it family-friendly, making it feel safe." 
Read more about ASIA's Courageous Covid Vaccine Champions in this CDC Foundation blog.
Funding for this effort is made possible through a subaward from the CDC Foundation and is part of the Centers for Disease Control and Prevention (CDC) of the U.S. Department of Health and Human Services (HHS) financial assistance award totaling $25,660,048 with 100 percent funding from CDC/HHS. The contents are those of the author(s) and do not necessarily represent the official views of, nor an endorsement by, CDC/HHS or the U.S. Government.